If there is one set that hockey fans love putting together every year, it is the base Upper Deck set. It is the flagship brand that draws in young and old collectors alike and the Young Guns rookie cards are always in high demand. Fans have been fired up to break open packs to find their favorite players.
One of the big draws for 2011-12 NHL Upper Deck Series Two is that it includes update cards of these other sets that were released earlier in the season along with rookie cards of top future stars like Ryan Nugent-Hopkins.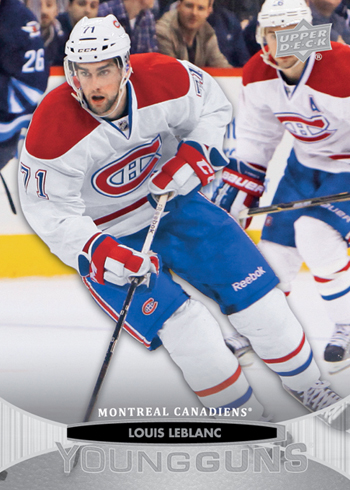 As you are flying through packs we wanted to put together some information that would help you about the release of 2011-12 NHL Upper Deck Series Two. Here is some key information that will help you as you go through the cards this week:
Autograph Content – There are absolutely ZERO redemption cards in the product. All autographs are live in the product. There are both sticker autographs and hard-signed autographs that can be found randomly in packs.
Young Guns Printing Plate Cards – There are One-of-One printing cards of Young Gun rookies from Series One and Series Two that can be found in random packs of 2011-12 NHL Upper Deck Series Two. This includes the checklist cards. That means there are four different Ryan Nugent-Hopkins printing plate cards (Black, Cyan, Magenta and Yellow) available of his iconic Young Guns rookie card.
Andrew Shaw – Chicago Blackhawks newcomer Andrew Shaw hit the ice a little too late for us to get him in the main Young Guns set, but we were able to include him in the Young Guns Canvas set. His Canvas Young Guns card will be his lone card in the product and it should create a lot of buzz around that card should he continue to play well.
Pelle Lindbergh – There are 15 retired stars featured in the UD Canvas set and a notable name that made the checklist is Pelle Lindbergh. This is Lindbergh's first Upper Deck issued card in several years and this card will be his only appearance in this product so don't miss it!
UD Canvas Autographs – Fans really seemed to enjoy the Canvas set in Series One so the hockey team worked to add a little more high-end content to it for Series Two. Collectors can look for two different on-card autographs in the Canvas set of hockey legend Bobby Orr (numbered to 66 matching his rookie season) and Canadien superstar goalie Carey Price (numbered to 31 to match his jersey number).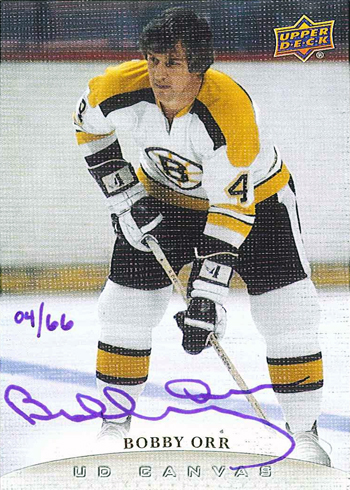 Sid & Ovi Buyback Autographs – We have been including some autographs of top stars like Sidney Crosby. In 2011-12 NHL Upper Deck Series Two puck fans can find hard-signed buyback autograph cards of both Sidney Crosby and Alex Ovechkin. Crosby signed just two copies of his 2008-09 Upper Deck Game Jersey card. Ovechkin on the other hand signed 21 copies of his 2005-06 Upper Deck Power Play rookie card. Each will include a hologram on the back and a Certificate of Authenticity card with a matching hologram.
Hockey Heroes Hard-Signed Autographs Return – For 2011-12 NHL Upper Deck Series Two the Hockey Heroes insert set looks at stars from 1960's and included in packs are hard-signed autograph parallels. You can find autographed Hockey Heroes parallel cards of Bobby Hull, Stan Mikita, Phil Esposito, Bobby Orr, Alex Delvecchio, Red Kelly, Johnny Bower, Rogie Vachon and Jean Beliveau number to just 15 copies. Also keep on the lookout for a rare dual signed card of Bobby Hull and Stan Mikita numbered to just ten copies.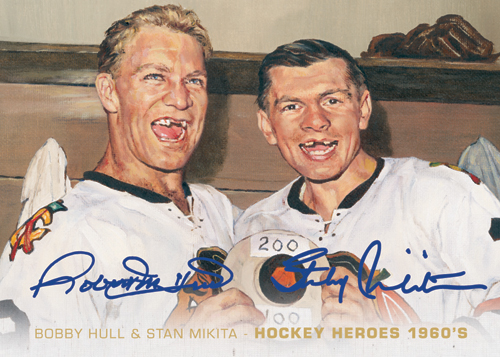 NHL Champ's Content – As many fans know, Upper Deck has been pulling redemption cards from releases and producing less product in order to have more live autograph content in packs and reduce the use of redemptions. But what happens when we pull the redemptions and the cards come back in. We want to get those cards out to the public somehow. Such is the case with the 2009-10 NHL Champ's Cam Barker mini autograph cards. We received them in after the release and after his redemptions were pulled. These will be randomly inserted into 2011-12 NHL Upper Deck Series Two in order to get them into the market and they are seeded as a bonus autograph card. The odds of pulling them are roughly 1:13,500 hobby packs and 1:2,300 retail packs.